ASIA: India
It's a patch of green, a wondrous vegetable garden that has sprung up at a height of about 50 feet on the fast-expanding concrete maze of neighbouring New Town in Kolkata, the eastern state of India. A team of five farming experts who run a social service platform in Birbhum district in the eastern state of West Bengal has been working tirelessly to grow more than 35 kinds of organic vegetables on the concrete terrace. Experienced in urban farming in Mexico, Gomez looks after the rooftop vegetable garden. He believes terrace farms can change the micro-climate of neighbourhoods in Kolkata. "This is an agricultural country, so let us not sever ties with farming. This is the only way you can do it in an urban set-up. Not only can we get our regular supply of vegetables from the roof, we will also be helping the environmental cause by developing them," said Gomez.
Arun Ram is busy looking after cauliflowers. He is another member of the group skilled in developing multiple varieties of indigenous vegetables. In all, the farm has 400 baskets that grow multiple varieties, either simultaneously or one after another in quick succession. With a production of more than 70kgs of organic vegetables on top of a multi-storied building that covers an area of 5,000 sq ft, what they have managed to grow is amazing. Nearly half a dozen varieties of leafy vegetables, several kinds of chilies, multiple varieties of brinjals, tomatoes, cauliflowers, cabbages, carrots, onions, beetroots, capsicum, garlic, mustard, flat beans, bitter gourd, and all these are being cultivated in baskets made from bamboo sticks.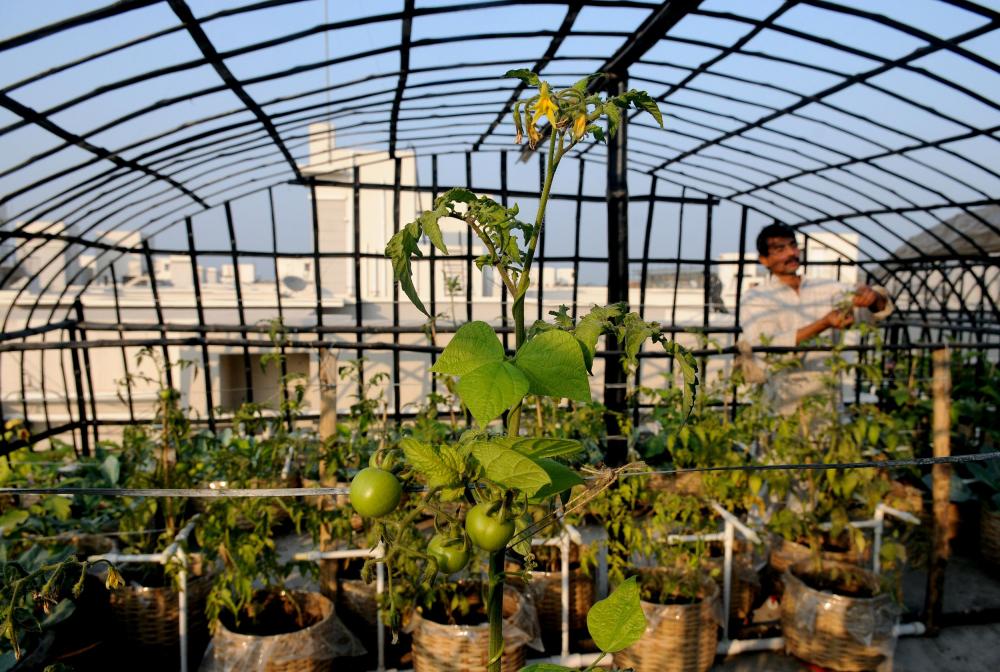 Organic tomatoes are produced on the rooftop too. Every piece of equipment in the garden is strictly eco-friendly and it yields only organic vegetables which are supposed to be tastier and healthier than the pesticide-injected varieties that the city consumes. Use of non-biodegradable stuff has been strictly barred here.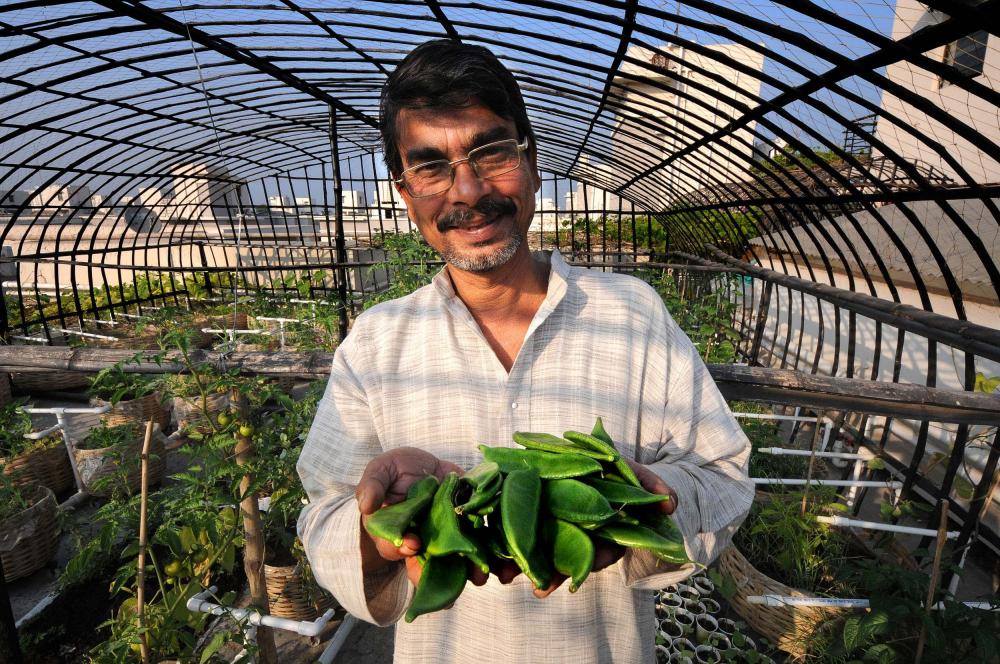 Arun Ram shows newly a collected fresh organic vegetable. To reduce the load on the terrace, soil has been replaced with crushed coir which is lighter and use of water is rationed. They are placed inside low, semi-circular chambers, again made of bamboo sticks.

Residents of the complex are buying organic vegetables on the rooftop. At present, the bulk of the produce from the rooftop garden supplies the staff canteen in the complex aside from the excess output being sold to the residents of the complex.
---