Indonesia: Semarang
Purnomo Dwi Sasongko sees his home city of Semarang in two very distinct ways: "looking at it as a citizen of the city, I see a lot of beauty: sparkling ocean, hills rising up in the south, mangrove forests and beaches nearby," he explains.
"But, when I look at it as my place of work I have a very different perspective."
Purnomo is the deputy director of the city's Development and Planning Board, which makes him responsible for infrastructure development, environmental planning and climate change adaptation in Semarang.
"Through the lens of my work the city looks different," he says.
"The sparkling ocean floods the coastal zone; the hill slopes make parts of the city prone to landslides... and the mangroves are a resource that needs protecting to help save the beaches."
Purnomo has lived in Semarang for many years and has a deep affection for the city, but he was not born there. He grew up in West Java, near the larger city of Bandung. Here he attended university, studying architecture and engineering.
"It was around this time that I first realized that I wanted to live in Semarang," he said.
"From a planner's perspective it is a fascinating city."
He arrived in the Semarang in 1994 to look for work before he eventually decided to continue his studies working towards a Masters degree. It was the city's complex topography that attracted him: "Semarang has countless challenges… uneven terrain, complex geology and many extreme weather events."
A view over Semarang towards the coast from the hills to the south of the city. Credit: A Rabin: Licensed under CC by 2.0
Initially Purnomo was unaware of the importance of climate change and its significance for Semarang.
"I learned as I went," he said.
"But as you work on city issues, especially on infrastructure, it is hard not to come across climate change."
The tipping point came when he saw how a complex drainage system that had been constructed in the city, became ineffective.
"The floods had got worse and the drainage system was not working; I realized that our planning was not taking account of climate change."
This was a moment of revelation for Purnomo.
According to Purnomo many practitioners of spatial planning have a way to go before they fully appreciate climate change, "they consider disasters, of course, but the responses are almost always based on historical knowledge of past disasters. Climate change is something new and unusual in spatial planning," he said.
"Climate impacts are clear, you can see and feel impacts like floods, but you need to understand how the floods will change, otherwise your planning becomes obsolete."
Purnomo's knowledge of climate change adaptation and resilience building was cemented by his involvement with the ACCCRN programme in Semarang city. He worked with Mercy Corps, who sent him to Italy for a peer-learning programme in climate change adaptation. This opened his eyes to the complexities of building resilience in complex urban systems.
Purnomo's realization was that the technical aspects of his job, needed to be married with a deep understanding of the social context of the city, in order to foster resilience.
"I may have been drawn to the city through and interest in its topography, but I stayed here for a love of the people," he said.
"Semarang is not like many other places in Indonesia, it is a diverse mix of people and cultures, which makes it very interesting to live here."
Connecting climate change with the collective idea of how to manage a major city like Semarang is a challenge and according to Purnomo, it is as much a problem of people and communication as it is of the environment and infrastructure.
"The people of Semarang are not only Javanese, there is a blend of people from Java, Chinese, Arabs and Europeans," he explains.
"When I first moved here I did not know how important that cultural mix was from a climate change resilience perspective."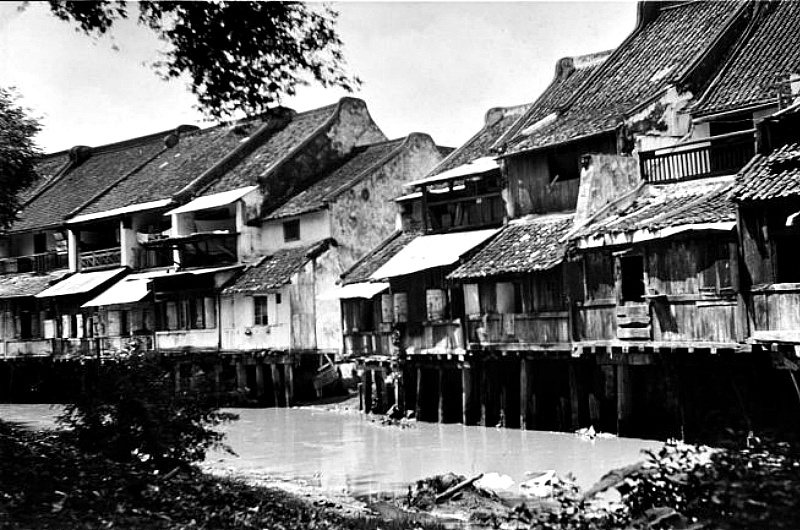 Kali along the rear of houses in the Chinese district of Semarang Credit: Tropical Museum, part of the National Museum of World Cultures . Licensed under CC BY- SA 3.0
The importance of engaging with the local community to find solutions to the challenges posed by climate change cannot be underestimated. It is not just about consulting the community; it is the understanding that the city is of the community.
"People need to be involved in developing the solutions themselves," he explains.
When resilience projects, Purnomo understands that they are inherently social. This means that the blend of cultures can cause tensions, which can make resilience building less than straightforward.
"Different cultures have their own unique perspectives, many of which are based in their religions. For example, the Chinese population in Semarang have a specific perspective on climate change based in the teachings of Confucius," explains Purnomo.
"The Arab community has perspectives based in Islam; traditional Javanese take their perspective from their local culture blended with aspects of Islam, traditional knowledge and other cultures."
These cultural considerations are at the heart of good decision-making.
"Much of the government are Javanese," explains Purnomo, "We have to be really aware of our own cultural position and viewpoint, to make sure that when we are planning our policies, they also fit with the Chinese, Arabian and European cultures."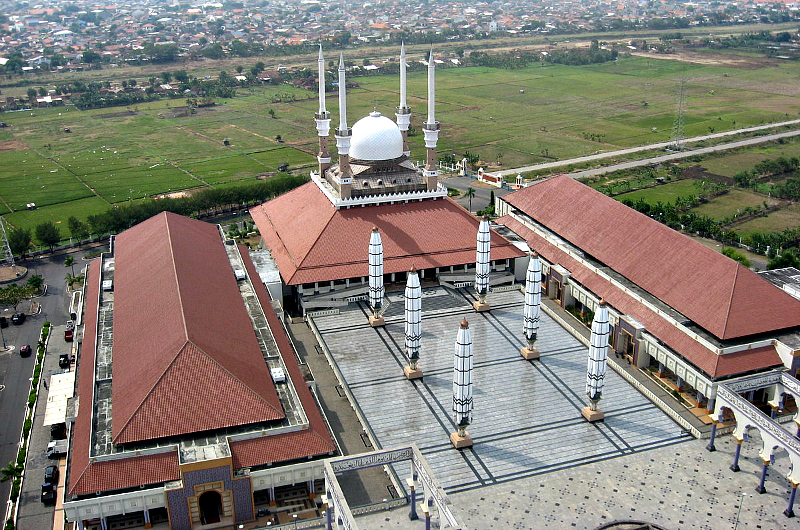 Mesjid Agung, The Great Mosque of Central Java, the largest mosque in the city of Semarang. Credit: Crisco 1492. Licensed under CC BY- SA 3.0
This is not an easy challenge but Purnomo insists that the process leads to better and more appropriate resilience measures being implemented.
"Yes it can be difficult," he says.
"However the cultural diversity also brings with a lot of new ideas, and innovations from that can help us to find new solutions to climate problems."
So how does he go about ensuring that planning policy is contextually important? "History" he says unequivocally.
"History is very important. When enacting climate resilience one of the first things I do is research the history of that area of the city to find out how that particular area has developed. Successful planning fits seamlessly into the environment. It should be of the place, not imposed on it."
According to Purnomo being a successful town planner is easy, "You just need to be a historian, and architect, an economist, a sociologist, a planner and an anthropologist!" he said, laughing, "fortunately these don't all have to be the same person; but I've definitely learned that you need a diverse team around you."
This has been one of the biggest advantages of the ACCCRN programme: it has enabled Purnomo to learn from other cities, and connect with climate change practitioners from across South Asia.
"We continue to learn a lot from other cities," he says.
"Through ACCCRN I have learnt a lot from looking at the cities of Hat Yai (in Thailand) and Surat (in India), seeing how they have been working on flood management."
They have shown that the power of resilience is not only in maintaining the integrity of the city, but can be an innovative force that drives renewal and innovation.
"I am working on a project of Mangrove reforestation at the moment that can help to protect the coastline from storm surges and sea level rise," explains Purnomo.
"This this will also give us the opportunity to increase coastal sedimentation and we can build a beach for the city, which will help to boost tourism and have a host of economic benefits. It's a great example of how climate resilience measures can be used to have many co-benefits for the city and its people."
Recommended reading from Purnomo Sasongko: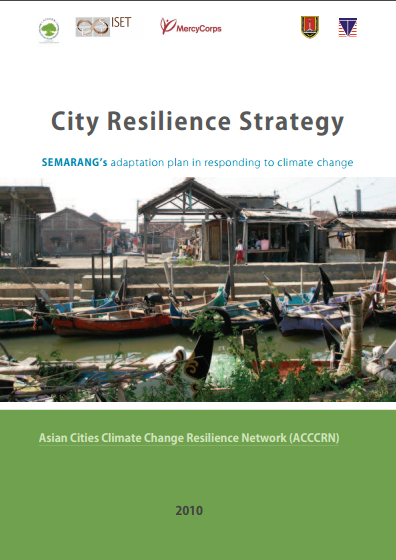 Puronomo was involved in writing and producing the City Resilience Strategy for his home city of Semarang in Indonesia. He is proud that his city has a document that forms part of a plan for Semarang  to adapt to the pressures and shocks that may occur as a result of climate change.
---