ASIA: Thailand
Pakamas Thinphanga is happiest near the ocean. Or, more precisely, she is happiest in the ocean. Her love of diving in Thailand's crystal blue waters brought her close to some of the most spectacular coral reef ecosystems anywhere in the world. It also made her realize how fragile such systems are, and introduced her to the complex interrelationships between humans and the natural world.
As a school student Pakamas was deeply influenced by a park ranger called Seub Nakasathien. Seub was a conservationist who worked for the Wildlife Conservation Division of the Royal Forest Department (RFD). He campaigned tirelessly to protect vulnerable forest ecosystems.
Working as a park ranger in a remote reserve near the border with Myanmar, Seub and his colleagues battled against illegal logging. After a titanic struggle he managed to secure UNESCO World Heritage sight status for the reserve, protecting its wildlife, however his success came only after he had tragically taken his own life in an effort to bring attention to his cause.
Seub's death sent shockwaves around Thailand in the early 1990s. This had a big impact on Pakamas, then school student, who recalls that "hearing about someone so committed to protecting the natural environment made me realize that this was an area really worth working in."
Pakamas would go on to study biology at university, eventually gaining a PhD in marine and coastal ecology, which allowed her to combine her passion for diving, with her work. Since then her career has since taken a slightly different path. In 2008 she joined the Thailand Environment Institute, and has become involved in climate change and urban resilience through the ACCCRN project.
In the urban context in Thailand, climate change is putting a strain on the relationship with water. The devastating flooding in 2011, increased pressure on water supplies in ever-expanding dry seasons, and worsening pollution in rivers and Klongs are, according to Pakamas, all portents of things to come if unregulated development is allowed to continue unabated.
"Water is a good example of how cities are tied to the natural world", explains Pakamas.
She points out that urban development that leads to waterways being in-filled and deforestation in the river basins to make way for new factories, roads and housing, has contributed greatly to depleting water tables, reduced water quality and increased risk of flooding. In this respect the urban environment does not represent such a stark departure from Pakamas's initial interest in conservation.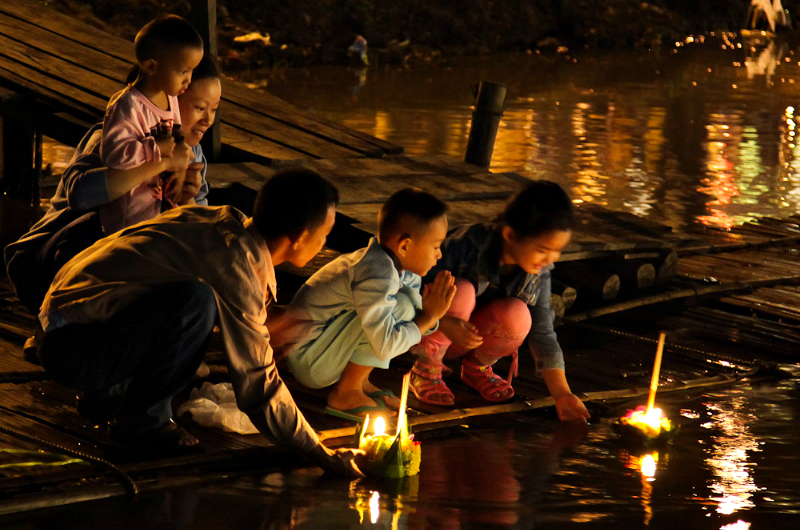 Pakamas's approach to urban resilience has further parallels to adaptive ecosystems management. Central to this, she says, is to understand cities as a complex interconnected systems. This approach shifts the emphasis from schemes that try and reduce resilience by targeting just one part of the system. Building a floodwall, for example, may not solve the problem of flooding unless other issues, like urban drainage and deforestation are not also tackled at the same time.
"Building resilience in a city context is not really just about building infrastructure. Climate change will exacerbate existing issues, like droughts and floods. Weak institutional capacity and governance will contribute to more vulnerability," she notes.
This approach requires collaboration with a wide range of stakeholders, from policy makers, to planners, to architects, to local communities. In water management Pakamas' work has helped to establish River Basin Communities, which focus on planning across the whole catchment area, and empower local communities to come together and work collaboratively to manage water resources.
One project that has taken this approach was an ACCCRN initiative in the Chiang Rai municipality of Northern Thailand. Here environmental experts worked closely with local communities to help to restore and section of the Kok River that had been steadily drying out over many years.
Building understanding amongst stakeholder groups is a challenge, especially when they do not always share the same goals.
However Pakamas insists that engagement is becoming easier as knowledge of climate change and its impacts builds up, "As cities grow they are facing changes in land use, infrastructure, and water ways. Locals are experiencing new flooding patterns. Flood depths are higher; the duration is longer. People now have an better understanding of why this is happening."
When Pakamas began working on the project she noticed that local government officials, the private sector, civil society groups and academics never worked with each other. Thanks to her team's project interventions multi-stakeholder groups have begun to established working relationships and continue to meet and share knowledge and experiences on urban resilience issues.
For Pakamas that is the very definition of a success story. Establishing a self-sustaining group that sees the value in climate resilience ensures long-term sustainability for these ideas.
Pakamas notes that this was one of the strengths of the ACCCRN programme saying, "ACCCRN is a long term project, it's been seven years now. That helps. It's important to (take the time to) build trust and local ownership."
Looking to the future, Pakamas believes the next important milestone is for Thailand's land use plans to fully incorporate the growing body of knowledge around climate resilience and urban development. The multi-stakeholder working groups in cities need to have informed dialogues with the government and businesses on land use policies.
Through her work she has noticed that much of the change in rapidly urbanising cities is driven by investments in infrastructural development and big projects led by governments and the private sector. Therefore engaging with these groups is essential if climate resilience is to become a mainstream consideration for urban development.
Perhaps unsurprisingly given her commitment to working collaboratively, Pakamas is uncomfortable being called an ACCCRN 'Champion' (she prefers the term 'ambassador'). She understands her work not as a single-person effort but sees that building resilience is a process of continuous learning involving many actors.
The writing that changed me:
The High Frontier - Exploring the tropical rainforest canopy, by Mark W. Moffett, Harvard University Press 1993. The author and photographer Mark W. Moffett explored and documented aerial canopy of tropical rainforest at major active canopy research sites - studying all kinds of plants and animals.
"It's the combination of scientific work and outdoor exploration activities in the rainforest that I was interested in." 
"It feels similar to the inspiration for my scientific work in the oceans - as a marine biologist," Pakamas explained.
---