ASIA: Indonesia
Uminatus Sholikah collected the administrative files belonging to 30 female fishers from two hamlets in Purworejo Village, Bonang District, Demak, Central Java. On Wednesday 10 January 2018, she got some news from Musakori, Chairperson of Jaya Bahri Fishers Group, that Purworejo's village chief was willing to change these women's job title to 'fishers'. "Apparently Pak Lurah (head of neighbourhood) asked for the files to be collected tomorrow on the 11 January and the word 'labourer' will be crossed out," Umi wrote in her short message on Wednesday.
Siti Darwati, a woman fisher who is fighting for the status of fishers was happy to hear the news. On her identity card, under 'Occupation', it said 'housewife'. Together with other women fishers, she was demanding recognition of their status as fishers. The village government was yet to approve this. Three weeks ago, Umi was still rushing around carrying a pile of administrative files belonging to these 30 female fishers on the coast of Java.
Each woman's file contains the original identity card and family card along with photocopies, an official letter from the village government about the change to the citizen's information on the identity card, a letter indicating that Land and Building Taxes have already been paid, proof of IRC contributions paid, and other required documents.
Since June last year, she was going back and forth to the village office to organize letters of declaration that recognized them as fishers. As far as she recalls, she met Ahmad Saifullah Al Asadul Usud, Purworejo village chief, six times and asked about the files. Since then, almost every day, she has been to the village office.
Not a fishing labourer
On the morning of Friday 15 December, Umi returned to Purworejo Village Office. She was asked to come to confirm the date of a meeting between the citizens and the village officials. "I was given a choice of a Saturday morning or a Sunday afternoon. I said Sunday afternoon, sir, because I need to distribute the invitations," said Umi.
These women fishers are active members of the Indonesian Women Fishers Association (PPNI) and Puspita Bahari, a women fishers' organization in Bonang District. Umi produces various kinds of marine-related produce, such as cuttlefish crackers. The women fishers she was assisting mostly live in the Tambak Polo and Tambak Malang areas. They were not always at home. In addition to managing their households, the women also went out with their husbands, departing at 3 am and returning after sunrise at 6 am.
This work is repeated from the afternoon till the evening. At noon, some of them have to go to the market to sell their catch. Just like their husbands, the women fishers work on a small scale. They are vulnerable to the risk of accidents while they are working. The difference is that, since their occupational status, according to their civil registration, is recorded as 'housewife', the women fishers cannot obtain a fisher's card. With that card, they would get guarantees and protections as fishers. They can also access government assistance programs for fishers.
Equality and fairness for women fishers
On the day of the meeting, the 30 women fishers with their husbands all turned up at the Purworejo Village Office on their motorcycles. "There is a public figure who doubts that women have the ability to be fishers. He also does not believe women can be called fishers according to the Law. But they are entitled to protection just like male fishers. I even showed him the Law," said Umi sounding irritated.
Finally, the letters about the change of occupation status were approved by the village chief, signed, complete with stamp duty, and witnessed by village officials. The letters were printed by the village, and the citizens provided the stamp duty. "After the letters were handed over, we realized that the job status had been changed from 'housewife' to 'fishing labourer'. Not to 'fisher' as we had requested."
Realizing there was a mistake, they asked the village office to change what the declaration said again. After some difficult communication by way of text messages, finally, the village chief agreed to meet.
In a brief meeting with Ahmad Saifullah, Purworejo's village chief, he still refused the request of the women fishers to change the occupational status on the letters that had been printed. The change was only to be from 'housewife' to 'fishing labourer'. The assumption was that the wives help their husbands. He compared a husband and wife going out to sea to go fishing together to a boat owner and the boat's crew.
"There are some assumptions that we want to convey. Fishers and a fishing boat crew do the same work. But the difference between the fishers and the fishing boat crew is seen in the ownership of the boat. If the husband and wife can prove their ownership then she can be called a fisher," he said.
The reference to them being fishing labourers, Saifullah said, did not presume to disparage labourers. On that occasion, he asked for a letter stating that the fisher's wives who went out to sea could also be called fishers. "If the Department of Maritime and Fishery Affairs (DKP) categorizes the women as fishers, then go ahead. We ask for the letter so that we can read it and therefore it can be a reference to the policy," he explained.
Susan Herawati Romica, Secretary General of the People's Coalition for Fisheries Justice (Kiara), who also attended the meeting, responded by saying that whether the women in Tambak Polo are fishers or not cannot be measured according to the ownership of boats. "They go out to sea together, and they turn the sea into a source to support their lives. There is no contract of cooperation between a husband and a wife. Schemes involving employers and labourers cannot be applied to them. If we return to the Law, we see they are clearly called small fishers."
This recognition, Susan said, is the key to the existence of small fishers, especially women. If the state does not recognize them, she said, a big question mark hangs over the promise to make them prosperous.
A lack of understanding
Masnuah, Secretary General of PPNI, sees the problem as being at the lowest level. Village officials in the fishing areas do not really understand the Law on Fishery Protection. In the end, the rights of the women fishers are not honored in full.
"I have explained. It's like this sir. Look at the Law. Being a fisher is work looking for fish. Looking for fish does not mean you have to use a boat. Shellfish, looking for crabs, jellyfish, all come under the definition of a fishers. It was like I was a tutor yesterday. Because the village chief could not explain it."
The situation, she said, is more difficult when you have stereotypical viewpoints that position women solely in the domestic sector. It makes the women fishers disappear. Whereas, in fact, there are many women who are the backbone of the fisher families.
This is not to mention the misinterpretation of religious teachings by which the wife is seen as having to serve her husband in a narrow sense. "They often encounter people whose religious interpretation is that a woman should not exceed a man; she is the helper. "
According to the general terms of Law No.7/2016, on the Protection and Empowerment of Fishers, Fish Farmers and Salt Farmers, it is clear that fishers are all people who earn a livelihood from catching fish.
Article 6 mentions that fishers are small fishers, traditional fishers, fishing labourers, and fishers with boats with a gross tonnage of between 10 and 60 GT (gross tonnage). Article 9 lays out the duty of local governments to include work as fishers, fish farmers, and salt farmers in the administrative registration of citizens.
This is what caused the problem in Purworejo. The women fishers in the village considered it enough if the village government writes down the occupation as being fisher, rather than specifying whether they are small fishers, traditional fishers, fishing labourers or boat owners.
***
It's different in Morodemak, the neighbouring village, which is just across the river. The women fishers in Purworejo have not been as lucky as their counterparts there. The filing of their occupational status as fishers was approved quickly by Morodemak's village chief. "When they filed it, I asked my staff about them. Apparently, they often accompany their husbands. There were two women who applied. Actually, there were three, but one did not go ahead with it," said Mujahideen, the village chief.
"If it violates the law, it will be taken back. The fact is, they are indeed fishers. I provide the appropriate information. In filing for an identity card there is a cover letter from community leaders (RT and RW) which mentions that their daily job is working as fishers. OK then. My staff don't have any objection," he said.
The reference to occupational status as a 'fisher' on an identity card is administratively important for obtaining a fisher's card. To obtain the fisher's card the villagers must get it from DKP, with a letter from the village government. Beginning this year, as Morodemak's village chief explained, the applicant must be a fisher according to the occupational status on the identity card.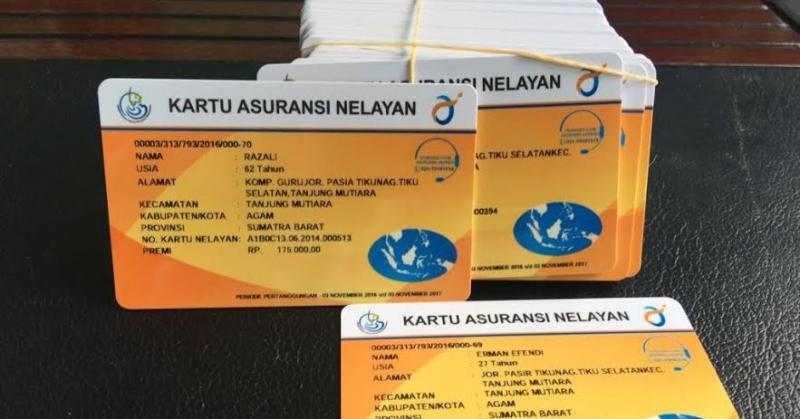 Once they own a fishing card, the cardholder also receives insurance premiums by way of a program run by the DKP. The program is called Fishers Insurance Premium Assistance (BPAN) and it provides compensation for accidents resulting from fishing activities of IDR 200 million if it results in death, up to IDR 100 million if if it results in permanent disability, and a maximum of IDR 20 million for medical expenses.
Compensation is also paid out for deaths caused by something other than fishing activities. A total of IDR 160 million is paid out if the death is due to either an accident or some other cause, such as illness. IDR 100 million is paid out for permanent disability, and there is a maximum of IDR 20 million for medical expenses.
She observed that the women had not been fishing on the sea for long. In the past, citizens were reluctant to have 'fisher' as their occupation on their identity cards. After the government started helping, people wanted to call themselves 'fishers'. "It may be that she has no choice because her husband is tired out. Or maybe she wants to improve their economic situation. What I see is normal; it's  progress. "
This article was originally posted on Mongabay Indonesia, 15th January 2018
---