Indonesia: Jakarta
After two weeks of deliberation by the esteemed judges, ACCCRN invited 10 selected participants to a storytelling workshop in Jakarta, 28-29 November 2017, which not only aimed to improve participants' writing ability, but also to deepen their understanding on what's going on with regard to rising temperatures, especially in the Asia region.
"Cities are engines of growth but are also centers of poverty, marginalization and exclusion," said Janice Ian Manultac, Asia Urban Resilience Advisor of Oxfam GB as she shared three key elements of inclusive cities. The first one is ‬spatial inclusion, where a city provides affordable necessities such as housing, water and sanitation. The second element is social inclusion which means equal rights and participation of all. The last one is economic inclusion, where a city provides opportunities to enjoy the benefits of economic growth for all.
We can't just rely on climate models to build resilience in cities because projections and forecasts change. "Long-term city planning plays important role to shape urban development, and of course community participation is even more crucial," said Janice.
"Urban vulnerability is high when systems are fragile; agents are marginalized, institutions confine rather than enable responses, and exposure to climate change is high," explained Nyoman Prayoga, Flood Resilience Manager of Mercy Corps Indonesia as he continued the session.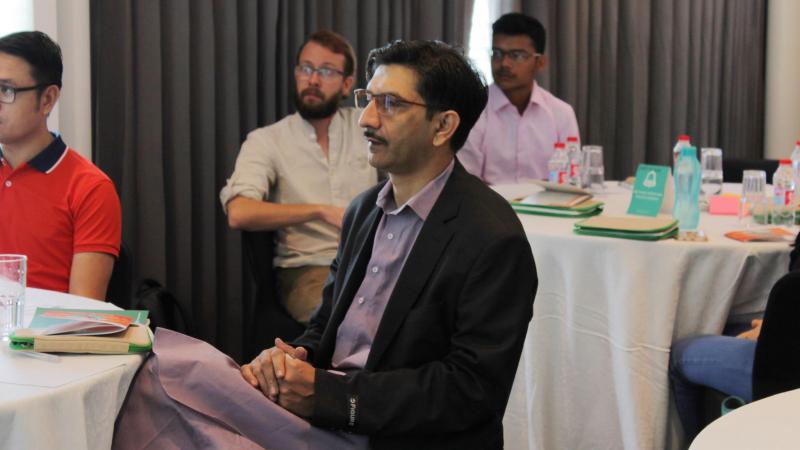 Participants were engaged in the discussion about how to make climate adaptation effort work in their cities. Muhammad Arshed Rafiq, who works at LEAD Pakistan, said "It will be pointless if they ignore traditional beliefs. Often the biggest hurdle in building resilience is communities' perception of disasters."
Zoe Tabbary, a journalist at the Thomson Reuters Foundation, then shared with the participants her thoughts on how to craft climate-change related issues so that they can attract the public's attention. She stressed the importance of using less jargon to deliver a story so that everyone can have the same understanding.
On the next day, the participants had a one-on-one session with the speakers to discuss their concerns regarding developing their stories. Each one of them had a chance to have a discussion with each judge before they rewrote their story and submitted it for the final round.
The participants had a dinner on the last night, at which ACCCRN announced the winners of the "Urban Heat Storytelling Workshop -  Beat the Heat: How inclusive cities are coping with rising temperatures". Read the winner's article here.
---