Indonesia: Semarang
On the weekend of 3-4 March 2018, the TRANSFORM program (trans-boundary flood risk management through governance and innovative information technology) held a fun camp activity. TRANSFORM itself is a program whose works spans the region of Semarang City and Semarang District in collaboration with Mercy Corps Indonesia, ESG, Gogik Village Youth organization, and Atma Connect, funded by Z Zurich Foundation through Global Resilience Partnership (GRP) Water Window Challenge.
The DAS GARANG Fun Camp, in cooperation with Mercy Corps, was conducted on the River Garang which flows through Semarang District and Semarang City on its way to Kendal District. The area of  the River Garang has been calculated as 204 km2. Of course, having this extensive area means the Garang watershed (DAS) can be at risk of disaster if not managed properly.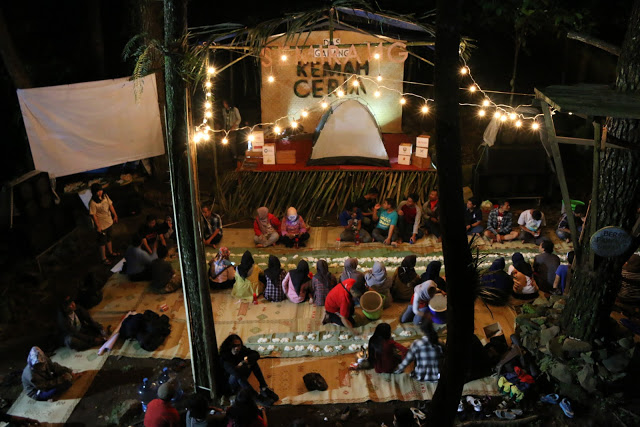 Therefore, the Fun Camp event was expected to foster awareness among the participants as well as to serve as a forum for sharing knowledge about the importance of looking after the environment. One kind of awareness is knowing about watershed conservation.
"This Fun Camp was held to rebuild the mindset of young people about the importance of protecting the environment. I hope the participants' mindset can change so they think about nature being our common property, and about how changing the area upstream region can cause a very broad and long-lasting impacts for millions of people downstream," explained Wardah, TRANSFORM's Program Coordinator.
There were about 70 young people who joined as campers. The event was deliberately held next to the flowing waters of the River Garang in Gogik Village, Samirang, in Semarang District, because the organizers wanted to introduce the campers to the conservation of the upper river basin watershed.
When they got to dinner time, the menu was vegetable salad with shredded coconut dressing on long banana leaves so that participants could socialize. After dinner, there was an evening entertainment provided by the locals. The camping location was at one end of Gogik Village, so it involved the Sadar Wisata Group (pokdarwis) who took part in introducing the village.
Participants were entertained by a village drama that told a story about greedy people who damaged the natural environment in order to make money. In addition to the play, there was also a wayang puppet show. This wayang performance used a tent to display shadows on a screen. The event that night closed with a reflection and was followed by building a campfire.
The next morning, the participants were invited to do outbound activities to exercise their dexterity, cohesiveness, cooperation, concentration, instincts, and empathy. There are many lessons that we can learn through these games, about teamwork in particular. We cannot live alone on this earth; so we are all on the same team. Humans and nature should also be able to work as a team, with our mutual cooperation taking care of each other.
This article was writted based on these original blogpost: http://diemplok.com/kemah-ceria-das-garang-bersama-mercy-corps/ by Nico Krisnanda
http://www.irasulistiana.com/2018/03/ngecamp-cerita-bersama-mercy-corp-yuk.html by Ira Sulistiana
---