ASIA: Burma (Myanmar)
Since joining the Urban Climate Resilience in Southeast Asia (UCRSEA) team, one of my favorite parts of the job has been the opportunity to travel within the Greater Mekong Sub-region (GMS) and meet with urban climate resilience practitioners from many countries who are also interested in understanding urbanization and climate change. In October 2016, I got to join a group of over 15 UCRSEA partnership members in the inaugural Collaborative City Exchange trips to Dawei, Myanmar.
The Collaborative City Exchange trips are built into the UCRSEA program to provide partners with an opportunity to network and also strengthen their knowledge about the various issues of urbanization, regionalization and climate change affecting the GMS. Once a year, UCRSEA partnership members will gather together in a different target city to learn from each other, and also learn from local multi-stakeholders about the specific challenges and issues of the selected city. These trips are an opportunity for partnership members to share knowledge across disciplines, universities, and countries. Importantly, it is also an opportunity for academics to learn from practitioners and stakeholders on the community level, outside of academia.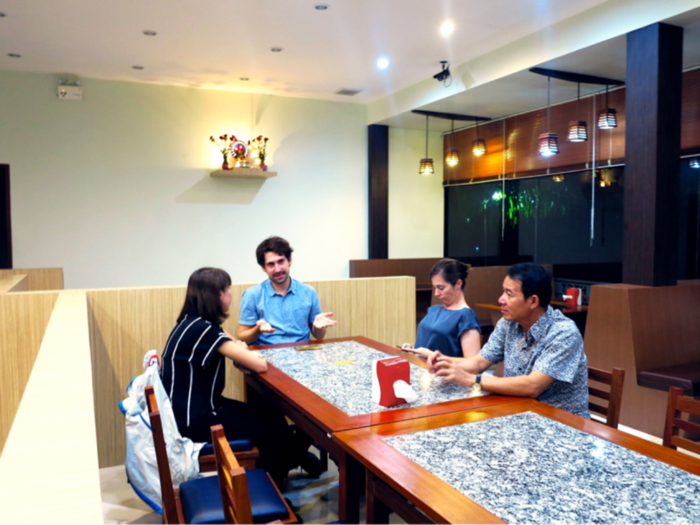 Despite the complex nature of both urbanization and climate change, many cities across Southeast Asia are facing similar challenges: poor governance leading to ineffective management, air, water and solid waste pollution, inability to cope with population growth, and increasing severity of weather related disasters. These similarities, paired with the unique factors of each country and city, make it especially productive for interested individuals from different countries to gather together, share knowledge and see what can be learned from their neighbors. As well as learning from the multi-stakeholders of Dawei, this trip provided the participants a valuable opportunity to learn from each other as they shared stories of successes and challenges in their own work.
During a Shared Learning Dialogue the first afternoon we arrived in Dawei, the UCRSEA group met with a group of local researchers, university lecturers and concerned citizens to talk about the effects of the Dawei Special Economic Zone (DSEZ) that is currently under construction about an hour's drive from Dawei city. As we talked about the DSEZ, the local multi-stakeholders were able to speak to the concrete needs of their communities, and specific local affects of the construction such as displacement of local communities, the need for greater transparency and communication from the developers, and the concrete effects of climate change that they were already experiencing in their everyday lives.
To supplement this information, UCRSEA members were able to speak in terms of the regional effects of the project and its regional history. In particular, my discussion group, which included professors from Thailand, Cambodia, and Myanmar, was able to draw historical patterns tracking the displacement of dirty industry from Japan, to Cambodia, to Thailand, and finally to Myanmar. This regional information, along with the specific local information, allowed us to see a more complete picture of the DSEZ's potential impacts, both social and environmental.
However, I found some of the most valuable moments of learning occurred at unexpected times outside of the planned workshops and meetings. At dinner the first night, I compared the political and economic development of various Asian countries with Professor Naret from the Royal University of Phnom Penh, Cambodia. Waiting in the Yangon domestic airport for our delayed flight to Dawei, I struck up a conversation with Thanousorn Vongpraseuth, a researcher from the National University of Laos, about comparing traffic patterns to water flow and our shared interest in sustainable architecture. During the hour-long van ride from Dawei city to the DSEZ, I chatted with our local translator about the university system in Dawei and her hopes to do translating work for civil society organizations in the future.
For me, these informal sharing sessions and exchanges were an important part of the trip. Gathering such a collection of international experts together is a great opportunity for learning and regional exchange and plants the seeds for regional network building. In future Collaborative City Exchange trips, I look forward to deeper opportunities for interdisciplinary analysis and engagement through workshops and Shared Learning Dialogues. However, we should also remember to leave room for the informal, unstructured dialogues and spontaneous moments of conversations that can be valuable opportunities for learning from our fellow urban climate resilience practitioners from many walks of life.
---