Indonesia: Jakarta
For Sugiyanto and his family, water and sanitation are the luxury things they could have in their life.
Sugiyanto lives with his family in a neighbourhood called Penjaringan, one of Jakarta's largest slums in the north of the city. He lives in a 3x4 m2 house with his wife, daughter, and mother. The house does not belong to him; he rents it for IDR 300,000 per month. There is no access to water in houses of that size. The family rely for washing and bathing on a communal latrine which is managed by one person and they have to pay between IDR 1,000 to 2,000 each time they use it. In addition, they have to pay IDR 5,000 per litre for clean water for cooking.
Life is hard for the family because Sugiyanto's mother is elderly. He has to carry her 2-3 times a day to use the public latrine. With the family income at no more than IDR 2 million per month, spending extra money on using the public latrine reduces the budget for meals.
Sugiyanto's family is not the only family experiencing such circumstances. Another family consists of 5 people living in smaller house than Sugiyanto's, and they have to take it in turns to sleep due to the limited space. Many families in Penjaringan are living in such conditions—living in small houses with no access to water and sanitation.
The Mercy Corps Indonesia (MCI) is helping the neighbourhood maintain better sanitation through a project called INSIST II (Integrated Services for Infrastructure and Sanitation Technology), which provides sanitation technology, infrastructure and services. INSIST II is funded by IKEA Indonesia through their BLUE BAG Innovation project. IKEA Indonesia donates 100% revenue from selling their blue bag to their customer to support the project.
Innovative Septic Tank for 100 Houses
Families in the poorest households live in small crowded spaces. There isn't even enough space to build public septic tanks, never mind building their own ones.
In 2015, the MCI, through the INSIST II program, helped to provide knock down septic tanks (KDST) for 100 houses in four community units (RWs). The criteria for provisioning KDSTs are the household living under poverty line (US$ 2/day), living in houses with the size under 30 M2, headed by women, living in rented houses, do not have access to appropriate sanitation facilities, number of existing communal latrines, and number of existing inappropriate sanitation facilities.
The KDST is different from a regular septic tank. It is a customized, specially designed tank that fits the smallest house in Penjaringan, which is 1 x 2 metres.
It has a built in anaerobic system and it only requires de-sludging of fecal waste once every two years.
"Then they build their own toilet in the corner of their house which only accommodates one person. But since they have their own latrine, they only pay the communal latrine for bathing and washing, so they can save the rest and improve their quality of life," said Doddy Suparta, INSIST II project manager.
Doddy continued, "From this technology, we can help Sugiyanto's mother to reach the latrine easily and reduce their sanitary expenditures monthly around US$ 12-16. Also this technology helps many families."
The KEDOTENG can reach houses in the Penjaringan. Photo credit: Arfiana Khairunnisa/Mercy Corps Indonesia
Increase Income as KEDOTENG Operator
Many houses in Penjaringan are unreachable by current desludging services because they are located in narrow pathways where large sludge removal trucks cannot pass.
INSIST II designed a custom-made, three-wheeled sludge cart, called KEDOTENG (which means suction cart in Indonesian), equipped with a mini-sludge removal tank and a pump that can access latrines. This cart can maneuver through Penjaringan's narrow streets to service latrines.
As this program also focusses on creating economic incentives for improving the lives of those on low-income in the Penjaringan community, therefore some of the residents take part as KEDOTENG operators. From the sludge-removal service they can increase their income up to IDR 2 - 3 million (around US$ 150-230) per month.
The MCI has conducted market research value chain analysis and a feasibility study as a basis in developing the sanitary products and services, which are sustainable, by improving the "business model".
"This is a business models that is combining income-earning livelihoods and pro-poor market solutions. The service itself is still affordable for a family like Sugiyanto's, because they can pay by credit to the cooperative unit in Penjaringan," said Doddy.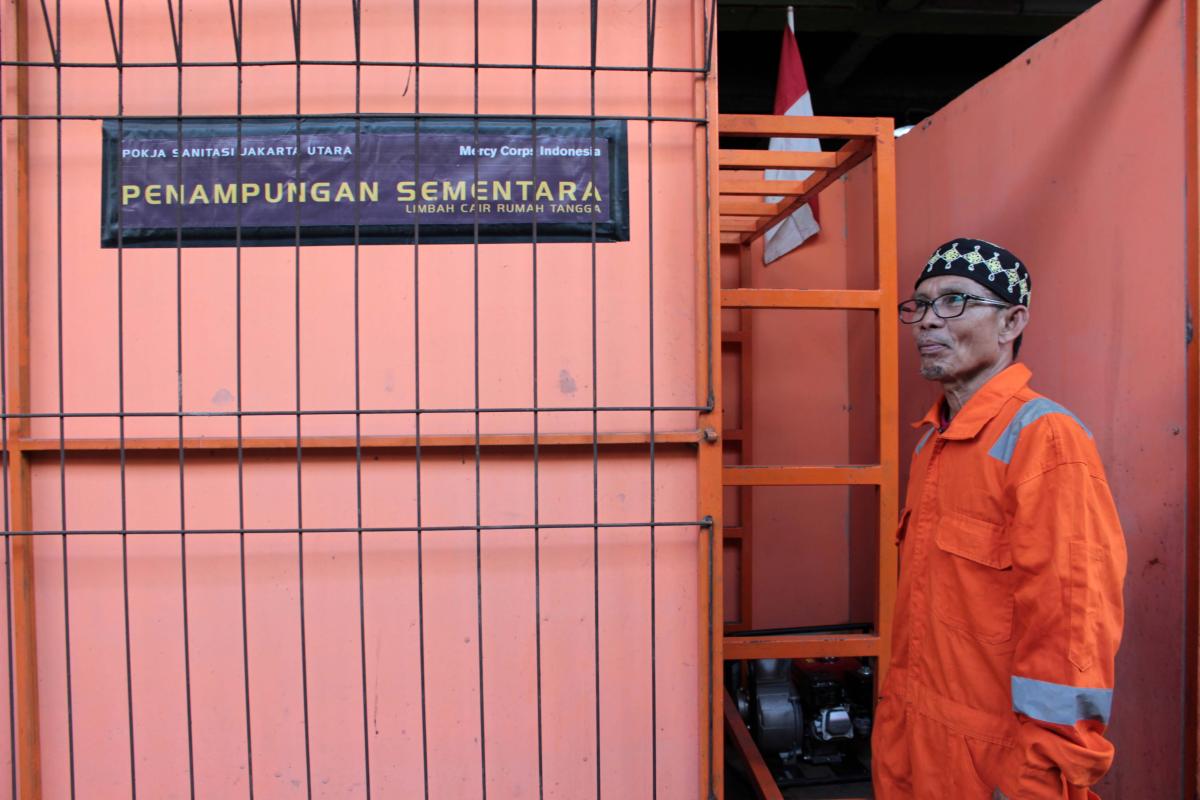 Kanang, one of KEDOTENG operators, is standing in front of the temporary sludge storage, before the waste water is taken by the private sector. Photo credit: Arfiana Khairunnisa/Mercy Corps Indonesia
More resilient to the impacts of climate
The Penjaringan neighbourhood experienced its worst flooding in 2007 and then the subsequent flooding due to the rise in sea level and land subsidence approximately 7 up to 12 cm per year. This rise, exacerbated by poor drainage, the potential sea water intrusion of fresh water sources, and the high density of coastal industries, will intensify the water and waste crises, health crises and land erosion.
In the dry season, the increased temperatures will heighten pollution levels and their damaging effects on health, and will also affect the finances of the families who live in Penjaringan, because clean water will be more expensive, and poor of health and clean behaviour practices due to lack of water.
It is expected that these products can help them to be more resilient to the impacts of climate change as they can reduce the risk of diseases caused by contaminated water, for example diarrhea, which results in more than 50,000 deaths annually in Indonesia.
---