ASIA: Indonesia
"The more you get to know about climate change the more complex the challenges become," says Ari Mochamad (or Ari Moch. Arif as he is known)
"Working on urban resilience is hard because you see the city through the lens of these challenges."
Ari was born and brought up in Bandung, Indonesia. The capital of West Java province, Bandung is Indonesia's third city, with a population of nearly 7 million in the wider metropolitan area.
"Bandung is a beautiful city," says Ari.
"It is known as 'Paris of Java'," Ari explains that it gets its nickname from the European Art Deco-style architecture of the city; "a remnant of Dutch occupation".
In fact the development of the city's architecture tells its own story about Bandung. Once large, single residences many of the older Dutch-style buildings have now been converted into modern apartment and office use.
"This was because of the number of people migrating to the city," explained Ari.
"People come from all over to go to school here, there are several well known universities and Bandung is known as a city of education."
Ari himself was educated in Bandung, graduating from the Catholic University of Parahyangan with a law degree. He continued his legal studies getting a Masters in legal studies from the University of Indonesia. It was only by chance that he came to be involved with environmental issues at all (he majored in economic law at university). 
"As a student I was an intern at the Legal Aid Society," Ari explained.
"Sometimes I got to accompany one of the lawyers and help on a case. One particular case really stuck with me. It was a case that centred on environmental pollution caused by a textile mill, which was disposing of its waste directly into the local rivers. Many people relied on the water for irrigation and for drinking water."
The case taught Ari three important things: Firstly, it showed him that the environmental protection was intimately linked to human wellbeing and development. Second, he saw that it was the poorest and most marginalised that were worst affected from environmental degradation. And finally it showed him that the law was, potentially, a powerful agent of change.
Ari Mochamad graduated in Law and has taken a keen interest in how the law can be used to further climate change resilience. More recently he has focused on changing government policy on climate change adaptation and mitigation. Credit: Ikmal Fauzan.
"On climate change the legal situation is moving fast," says Ari.
"In 2013, the Indonesian government officially launched the National Action Plan for Adaptation to Climate Change (RAN API). This has set the direction for different sectors to build climate resilience and has had an impact on how the laws in Indonesia have developed."
Though progress has been made, Ari admits that there is still much more work to do.
"Many of the plans do not provide the legal basis requiring local governments to take action," said Ari.
"Without a legal basis, it is difficult for them to convince the local parliament and the central government to support funding for resilience projects,"
With the legal requirements not at the stage where they compel local governments to take action, Ari was keen to work in an area that would allow him to have impact on decision-making. In 2006 he worked as part of WWF Indonesia's team as the national co-ordinator of work on the UN Framework Convention on Climate Change (UNFCCC). His role was to ensure that Indonesia was actively involved in the climate negotiations. On his return from the 12th UN climate talks in Nairobi, Ari made it his mission to ensure that climate adaptation was considered in national and local policies throughout Indonesia.
He set about doing just that, becoming Secretary of the working group on climate adaptation for the National Council on Climate Change (DNPI) which was given significant authority to advise and oversee the implementation of both climate change adaptation and mitigation policies across Indonesia. He has also worked for the Green Voice Foundation in Indonesia, promoting green movements in arts and sciences in the country and is now working for international development consulting firm DAI APIK on their climate adaptation governance work.
Ari is the first to admit that Indonesian cities like Bandung face major challenges from a climate change perspective.
"I am a keen cyclist; I cycle around the city every week," he said.
"I love to make changes to the bike frame to make it more comfortable to ride. Riding a bike around is a great way to see the city, you see the traffic, the air pollution, you see the community and the people and you see that the city is also vulnerable to climate impacts."
Bandung faces considerable flooding problems. In 2014 a state of emergency was declared as the Citarum River burst its banks flooding the city and surrounding land. "One of the main causes of this is the lack of green space," says Ari.
"There is little public space and not much public transportation."
This means that much of the city is paved, leaving rainwater to run over the city and into the rivers.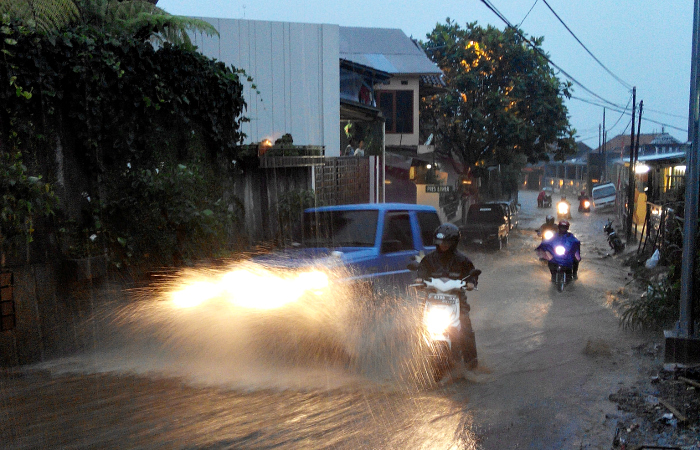 Floodwaters cause havoc on the streets of Bandung, Indonesia. Bandung was where Ari grew up and where he studied law. Credit: Ikhlasul Amal. CC by 2.0
Ari has thought deeply about the problems facing the city he has worked to help strengthen cooperation with other provinces, to build dams and maintain forests to ensure that flooding is reduced. He is very much of the mind set that action needs to happen at the local level and that people need to stop talking and start acting.
"The best way to convince a politician that a plan will work well; is to show them the plan working well," he said.
"For building climate resilience there are four things that you need at the city level: First you need support from the government and the parliament," he said.
"Secondly you need engaged civil society organisations and researchers who are able to communicate well with other sectors. Then you also need to make contact with journalists and convince them of the importance of the climate issue. Finally, you need the support of local powerbrokers, like the mayor or governor. They are crucial to help to get stakeholders together in the first place."
It is easier said than done to achieve what Ari describes, but Ari is most definitely a 'can-do' person.
"Spending on climate change resilience is an investment, not a cost," he says, drawing a parallel to another of his hobbies.
"In my spare time I collect die cast toys, and I hope that in the future the value of the toys will rise."
For Ari it is similar with climate resilience: invest to protect the value held within your city; a sound principle given the cost of climate change adaptation being repeatedly found to be orders of magnitude smaller than the costs of recovering from climate driven disasters.
A diecast toy collector's table at an antique toy show. No doubt a collection of which Ari is jealous. Public Domain.
Ari is hopeful for the future, in part because he believes in the capacity of people to respond to the challenges that they face.
"The general ability of cities is determined by a number of things: human resources, technology and access to finance all have an impact, as well as the magnitude of the climate risk that each city faces," he explains.
"But the difference between cities that are preparing for climate change and those that are not is often not down to this; the difference is social, cultural and political."
Recommended reading by Ari Mochamad: The other half of climate change: Why Indonesia must adapt to protect its poorest people (UNDP)
Ari was a contributing expert to this UNDP study that shows how climate change threatens to undercut Indonesia's recent progress in reducing poverty. The report shows how the impact of changing rainfall patterns, long droughts and floods will hit hardest the poorest and most vulnerable communities in agriculture, fisheries, forestry, coastal and urban areas.
---