ASIA: Philippines
How can we make our cities more resilient to shocks and stresses? How can we make them more liveable and more accessible? And how can we make them work for the poor and marginalised as well as those who are better off? These are the questions that Alexandra Vogl has been working to find answers to throughout her career. Her work has taken her from urban planning in cities in Eastern Europe, to climate change resilience building in Asia's burgeoning mega-cities.
Podcast:
"How do I describe my work? It's working to find holistic solutions to climate resilience," Alexandra explains.
"Making a city resilient is not a single action. It can only be achieved through multiple interventions, they have to build upon each other over time".
Alexandra's deep understanding of how cities function was fostered amongst the Art Nouveau architecture and wide streets of Vienna, Austria. Here Alexandra began to think deeply about how a city's mechanics affect the people living within it. Her formal studies in urban and regional planning (at the University of Technology - pictured below) and a masters degree in urban strategy from the university of applied arts, gave her some of the tools that she needed.
The University of Technology, Vienna: Credit: Peter Haas / CC-BY-SA-3.0.
"I did a lot of integrated urban development planning, real estate development and business development." Alexandra explained, "what struck me most was the pleurisy of cities. For development to work for the people, it requires dialogue with a huge range of people."
This realisation led her to establish a Vienna's leading competence centre on urban technologies and urban strategies. TINA [link to http://www.tinavienna.at/en] specialises in bringing together stakeholders to plan and implement technology to improve the city.
"I built the company up for 5 years and learned a huge amount about the potential for the right investments in urban areas, they really can be transformative," says Alexandra, "when there was an opportunity to work with the Asian Development Bank in Asia I just couldn't refuse it! I wanted to see if I could apply what I learned to the Asian context."
Alexandra's move to Asia was a bold one, especially considering her prior lack of experience living and working in the region.
"My first trip to South East Asia was when I started working for the Asian Development Bank in Manila just 4 years ago," she said, "my first impression was feeling completely overwhelmed by the heavy traffic, weak public transport and the noise levels in the city and huge disparity between rich and poor."
So how easy is it to apply lessons from European cities to those in Asia? Well, according to Alexandra, there are similarities as well as differences.
"If you look at cities in many Eastern European countries there are actually a lot of similarities from a development perspective. Lack of basic infrastructure, lack of effective institutions, and often a lack of understanding about issues of climate change and resilience," said Alexandra.
"One of the biggest differences though is the pace of growth," she explains, "Most European cities are either growing very slowly or shrinking, whereas populations in many Asian cities are exploding, the challenge for Asia in that context is much bigger."
However Alexandra says there are areas where Asian cities have an advantage over their European counterparts.
"In Asia there is more flexibility in terms of the response to climate resilience, the growth offers a lot of opportunities to get climate resilient development planning done at the early stage. In Europe that is not always the case."
While many cities in Asia still lack basic infrastructure, Alexandra has noticed in recent years, a change in attitude to climate change resilience planning amongst policy makers.
"They are becoming more open to innovative approaches to climate resilience," she said, "once their attitude would be to fix the basic infrastructure first and then think about climate change later. But increasingly they are realising that this attitude does not work. The climate issue is urgent and is putting the brakes on urban development."
Interestingly, Alexandra has found that the very process of building climate resilience in urban areas is helping to foster the conditions for resilience to thrive.
"Siloed sectoral planning is the enemy of resilience," explains Alexandra, "but the process of looking at climate change, the risks and shocks that a city will face also brings you to the need for integrated development. Climate change affects all parts of the city system so the problem forces decision makers to think systematically. Finding resilient solutions for climate challenges doesn't just necessitate an integrated approach, it forces one."

Flooding in Manila in 2012. Credit: AusAID
Since moving to Asia, Alexandra has become used to the hustle of Manila, while admitting that the city took some adapting to she says that was the people that allowed her to warm to the place.
"I love the people and the culture in South East Asia, it is such a diverse and beautiful region," she said, "there is so much to explore, and even in Manila, which is not known as a tourist hot spot it offers the opportunity to find hidden treasures."
Alexandra understands that given time, cities can offer a lot, even when resources are stretched. She is driven by the desire to help cities unlock these great reservoirs of potential. Since joining the ADB she has been acutely aware of the need to drive climate finance toward supporting climate resilience at the city level. The challenge she has faced is to marry the need for large-scale investment with the community-level actions already occurring throughout Asia.
"Having projects like ACCCRN at the local level is important. Banks like ADB don't only finance large infrastructure projects, we also try to fund sectoral areas and systems projects." Alexandra explained.
"It is much easier to fund these when there are existing initiatives on climate change resilience already in place at the city level."
While there is clearly a great need for investment in climate resilience in urban areas, Alexandra explained that it is not always easy for the large development banks to match their projects with the initiatives that are already taking place.
"At ADB our first contact [when assessing a climate resilience investment opportunity] is normally the national government and deciding what large-scale investments are required," said Alexandra.
"However initiatives such as ACCCRN that are most active at the municipality level are often engaged in planning, and stakeholder engagement."
So can there be a meeting point between the National level development planning, the desire for multilateral development banks to invest at scale, and the city-level initiatives operating at the community level?
Alexandra thinks so, "Of course there can be and you don't just have to take my word for it, we have good examples where this has worked."
"In Vietnam, where ACCCRN had already helped to build climate change resilience awareness at the local level, there was also a good understanding of the issue at the national level. The government was aware and across the actions occurring in the municipalities, their understanding of the resilience issue was greatly developed."
In other countries, an appreciation of resilience issues is less well developed. And while there may be a focus on certain sectoral projects they are not thinking about integrated approaches.
"This is why the ACCCRN programme is so useful," says Alexandra.
"It gives us concrete examples of best-practice urban climate change resilience. It is also why the ACCCRN network has so much potential to share the knowledge and experiences from the municipality level. If it is successful in advocacy to national governments, it will have an huge impact on the amount of funding that can be channeled to city resilience projects."
Featured writing by Alexandra Vogl: Smart Concepts for Greener Cities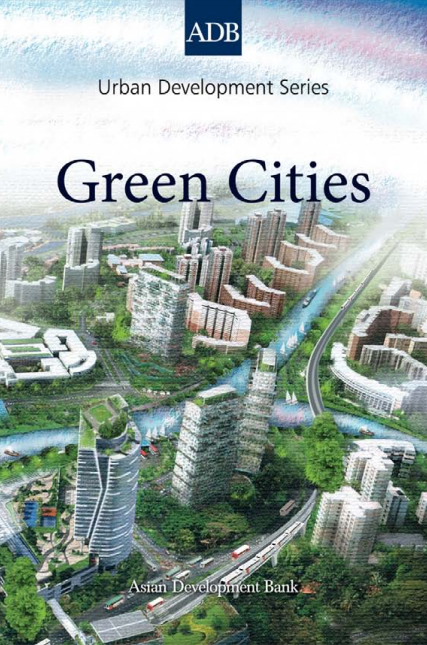 In her chapter written for the Asian Development Bank's 'Urban Development Cities' Alexandra explores the idea of the 'smart' city. She takes the phrase 'smart city' as meaning more than just a technological approach to fixing complex problems.
Here Alexandra argues that 'smart' refers to an intelligent and attractive approach to building sustainable cities that combines infrastructure, technology, and local community involvement with a vision based on local conditions, capabilities, and resources.
---