Bangladesh: Dhaka
By the time Saleemul Huq had reached university he had lived in more cities than most people manage in a lifetime. Born in Karachi Pakistan, his father was a diplomat moving frequently, and Saleemul moved with him. At the age of one he moved to Bonn Germany, he went to school in Jakarta, Indonesia; attended high school in Nairobi, Kenya; and then went to university in London. Later he would settle in Dhaka, Bangladesh where he still lives for much of the year.
Is there anything that connects the cities that he's lived in over the years? Saleemul insists that although the differences outweigh the commonalities, "The most common thread that connects cities is that they are all human systems. Each city's character is defined by the interactions of its citizens. That might sound obvious but it's actually very important if you want to understand the way cities work."
Dhaka city is a case in point. It's the fastest growing mega city in the world, home to more than 15 million people. "It has huge challenges, sometimes overwhelming challenges," says Saleemul, "But it also has great lessons for other cities. It is hugely vibrant, its people are innovative and creative with growing industries that are brining women into employment".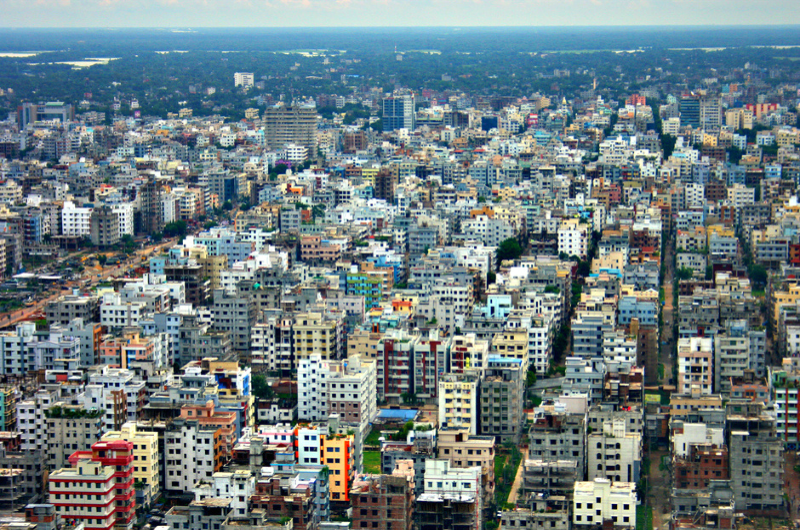 Dhaka city from above. Credit: Sandeep MM. Creative Commons BY-NC
Saleemul is now one of the most respected climate change practitioners in the world. He has spent much of his life working at the intersect between climate change and development. His first involvement with climate adaptation came when working on some of the very earliest studies into climate impacts and vulnerability in the early 1990s. "We knew that climate change could be important for development," he said.
"But then the more I started looking into it, the more I realised that this was a game-changer… It was a biggie".
He continued to advocate for climate change to be taken seriously as a development issue, and was lead author of the 'Adaptation and Sustainable Development' chapter of the 3rd assessment report of the Intergovernmental Panel on Climate Change (IPCC). His work bringing climate change into mainstream development practice has been pioneering and it has shaped his outlook about climate resilience.
"I used to spend half my time talking to development professionals trying to get them to understand climate change, and the other half talking to climate change professionals, explaining development to them," he explained.
"Things are much better now though, there is much greater appreciation of the issues on all sides."
The common theme that runs through Saleemul's career has been a focus on the poorest and most vulnerable people. At the heart of this is that in order to successfully adapt to climate change and build resilience to climate driven extreme events, programmes must be deliberately designed to protect the poor. If they are not. Then in all likelihood they won't.
"'Resilience' as a concept is often thought of as a universally good thing. It is depoliticized" Saleemul says, "But when you apply the concept on the ground in urban areas it very quickly becomes political again."
Saleemul gives the example of a flood barrier being built in an urban area. "The new barrier can make certain areas of the city more resilient" he said, "But often this is calculated to be the business district, or expensive neighbourhoods. The cost-benefit analysis works out that way."
Poorer neighbourhoods and slums, may actually be made worse of by the new infrastructure. This sort of maladaptation is not uncommon. "When you apply resilience in practice in the urban context, the question soon arises: Resilience for whom?" says Saleem.
But what does Saleemul feel is needed to help cities build resilience?
"Not so long ago I would have said awareness raising," he said, "But I think many cities have moved on from this now. It's still important especially at the community level. But for me, capacity building is now the most important thing. Government departments, the private sector and local communities all need to have the capacity to effectively respond to the challenges that climate change is bringing."
Not one to make empty statements without following up with action, Saleemul now works to build capacity of practitioners, governments and other important decision-makers so that they understand climate change and pro-poor resilience building. To do this he established the International Institute of Climate Change and Development (ICCCAD), based at the Independent University, in Dhaka. With support from the Rockefeller Foundation, ICCCAD runs courses and training programmes on climate change and now boasts a network of more than 500 Alumni from Asia and Africa.
"The courses are focused specifically on helping students to think about what they are going to do when they return to their countries of origin," explains Saleemul, "We work closely with our alumni. If they do something interesting then they are brought back to help to pass on their experiences. Another advantage of having alumni all over the world, is that I have a friend in so many cities, whenever I travel I can meet someone for a coffee or lunch."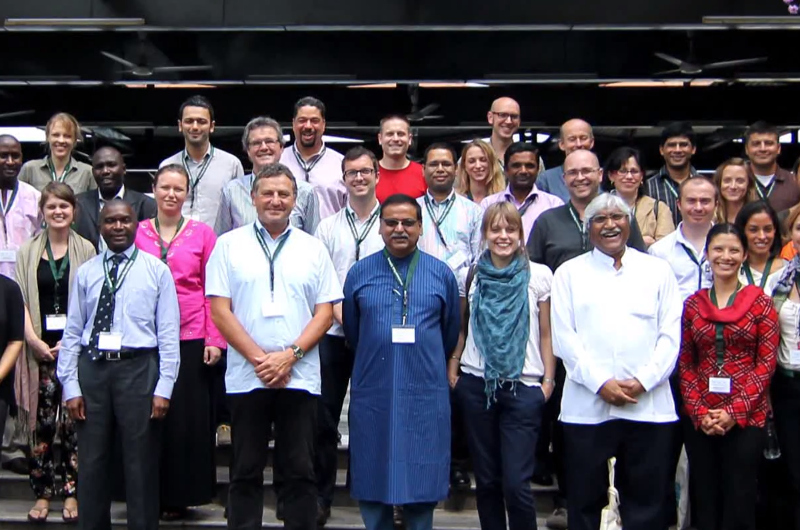 Saleemul Huq (front centre) with attendees of the ICCCAD Resilience Academy. Credit: International Centre for Climate Change and Development (ICCCAD)
After living in Bangladesh for many years Saleemul is aware of the scale of the climate challenge. "Bangladesh has for many years been held up as a case study in climate vulnerability," he said. "But now it is also becoming a case study in climate resilience".
"The country has moved forward with this challenge faster than any other country in the world. The government, over the last 5 years has been putting hundreds of millions of dollars of its own money into implementing its climate adaptation plans."
"It is not waiting for anyone else to come to the rescue. So that's what I tell everybody: You want to know about how to tackle climate change? Then the leading place in the world, where 150m people from the Prime Minister to the rickshaw puller on the street has a very high level of awareness of the problem, and is working on solutions to the problem is Bangladesh."
Saleemul's perspective is interesting as it is informed not only by the challenge that fast growing, highly vulnerable metropolises such as Dhaka face, but also by huge changes in people's awareness and ability to respond to the problem. So in light of that, is he optimistic about the future? "In my line of work," he replies, "You have to be".
The writing that changed me: City of Joy by Dominique Lapierre
Set in the slum settlement of Anand Nagar in Calcutta, India, Lapierre's City of Joy revolves around the trials and tribulations of a young Polish priest Fr Stephan Kovalski and the hardships endured by a rickshawpuller named Hasari Pal.
"The book describes how life can be great for the citizens of a large city, even under conditions of economic hardship," Saleemul explained. It challenges the notion that poverty and misery are inextricably linked. It's a vision of hope, set against the backdrop of poverty and desperate circumstances: a message that has inspired Saleemul's thinking about what the true meaning of 'resilience' is.
---